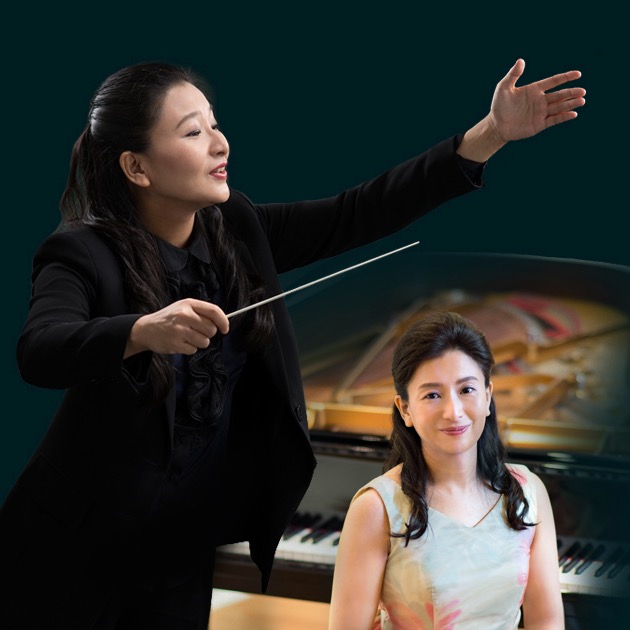 Yuki Hasegawa is a musical polymath whose career embraces roles as a conductor, arranger and pianist. In 2020 she is the only Japanese finalist of the Arthur Nikisch International Conducting Competition.
Conducting highlights include regular invitations to direct the Japan-Croatia Music Society, with whom she has premiered works such as Croatian composer Boris Papandopulo's Sinfonietta in Japan, an occasion that was greeted with considerable critical acclaim: "A wonderful programme full of nobility, romanticism and also folk elements…"
Yuki Hasegawa's piano recitals have received warm audience responses, including: "a very eloquent and three-dimensional impression that made good use of a dynamic playing style…"
As a chamber musician, she is passionate about the experimental repertoire of the early 20th century, including works by Castillon, Stenhammar, Juon, Pilati, Roussel, Vierne, Schulhoff, Lekeu and others, resulting in a CD with Jean-Pierre Lacour, former violinist of the Orchestre de Paris.
(continue to the bottom)
Her piano arrangement such as variations of piano interludes for Arban's Variations on a theme from the Carnival of Venice, featured on the recital album of tubist Jun Miyanishi, then principal with the Taiwan Philharmonic and National Symphony Orchestra, Taiwan was greeted with considerable critical acclaim in the liner notes. Her piano part arrangement of Franck's Violin Sonata for cello recital of Aurélien Sabouret, her brother in law and principal cello with Paris Opera, and her piano transcriptions of Debussy's Prélude à l'après-midi d'un faune contributed to the acclaims of the concerts.
As a producer, especially under the circumstances of Covid-19, she invites talk guests such as architects who are related to the composers' land, to produce online concerts with dialogues about history and city structure for culturally rich experiences and the latest series of music lectures by her former European Professors with the support of the Agency for Cultural Affairs, Government of Japan.
Yuki Hasegawa is the laureate of many piano competitions in France, Italy and Austria (including the Brahms Competition in Pörtschach), as well as numerous competitions in chamber music and orchestral conducting.
Born in Tokyo, Yuki Hasegawa began piano lessons at an early age, studying with Professor Fujiko Yamada. She went on to study with Thierry Huillet in Toulouse and Arnulf von Arnim in Germany, alongside tuition in chamber music with Jean-Pierre Sabouret (concertmaster of the Opéra National de Paris), Eric LeSage and Paul Meyer; orchestration with Alain Louvier; écriture musicale with Bernard de Crepy; and orchestral conducting with Renato Rivolta and Vincent Renaud, among others.
She is a graduate of the Kunitachi College of Music (piano), the Conservatoire Supérieur de Paris-CNR (chamber music, écriture musicale and orchestration), and the Milano Civica Scuola di Musica Claudio Abbado (orchestral conducting). She also studied écriture musicale at CNSM-Lyon. From school days she has worked as an official accompanist in numerous winds and strings instruments' masterclasses and competitions. Later, she has been on the jury of several music competitions, including piano prizes, and has been involved with aspects of music education at a number of institutions.
Yuki Hasegawa divides her time between Paris and Tokyo, enabled by her 'Talent Passport' (a multi-year residence permit for a foreigner in France). She is affiliated with several organisations with whom she enjoys a close professional relationship, including Pro Arte Musicae, the Irish Music Rights Organisation, the agency Ensemble Cordiale, of which she is President, Édition les bons concerts, and Lyrica Records.
Updated 2021.2
(Updated based on Ms. Joanna Wyld's editing)